The History of Boots the Chemist - Nottingham
The ancestry of the Boots family has been traced back to Richard Boote of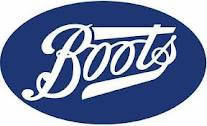 Diseworth in Leicestershire who died in 1577. In later days the paternal ancestors of Jesse Boot (born 2nd June 1850) had lived in the small Nottinghamshire village of Willboughby on the Wolds. John Boot, Jesse's father, had grown up to be a farm labourer, but later, due to poor health, he left this and became a herbalist.

As a child, Jesse Boot accompanied his father into the woods, identifying plants for his herbal remedies. Jesse was only ten years old when his father died. He left school at thirteen and started to help his mother, Mary, full-time in their little shop, which sold soap, soda, camomile, senna, household necessities and simple herbal remedies. In any spare time he had, Jesse would learn all he could about pharmacy.

In 1877, Jesse took control of the chemist's shop in Goose Gate, selling 'Drugs and Proprietary Articles at Reduced Prices', and introduced lines such as black lead and candles. He had worked out how he could undercut the monopoly of the 'proper' chemists who practised a price-fixing policy: he had to raise his sales to £20 a week in order to buy in large quantities and sell at low prices. He advertised in the Nottingham Daily Express informing readers of the 128 items he stocked stocked from Allen's Hair Restorer to Woodhouse's Rheumatic Elixir, emphasizing their reduced prices. His tactics provoked violent opposition from other chemists. Within the first month his takings had risen to £40 per week.
Jesse Boot's aim was to attract working-class people who could now afford a few of the things he had to offer and for their benefit he also created some special offers such as soft soap at 41/2d for 2lb, when other shops were selling it at 4d a 1lb. On such occasions, he would have a bell-ringer touring the streets of Nottingham which brought customers flocking to his shop. His hard work and concern for the poor came from his ardent Methodist upbringing and adherence to the John Wesley Primitive Physic for his folk medicine. Later he renamed his shop "The People's Store".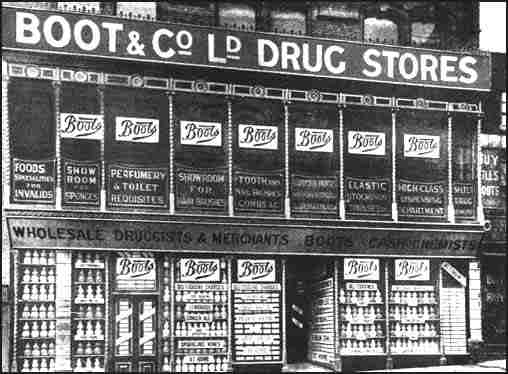 He opened splendid new premises, planned by himself, which has a plate-glass frontage, intersected by tastefully gilded and spiralling columns. There was a central office from which he could control the departments of his growing concern and also a large workshop area where Jesse's own preparations were made - the forerunner of Boots Own Brand. Doctors of his day had the monopoly of making up their prescriptions after seeing patients. Jesse engaged a young qualfied chemist, E S Waring, who was also keen on prescriptions. The people initally could not take their prescriptions to the cut-price druggists as they were not incorporated, but Jesse was determined to make a breakthrough.
Eventually he won the fight and both Boot and Waring lived to see the firm handle over a million prescriptions a year, charging only half of what other chemists were asking in 1884.
Jesse Boot changed the name yet again. His chain of ten shops was now called 'Boots Cash Chenist'. Jesse raised capital from fridends and J Boot & Co Ltd was formed. The long hours began to take their toll on Boot. The first shop had been kept open to 9pm on most evenings and until 11pm on Saturdays, and then there was the writing up to do after that. At stocking time, when he would work right through every night for a forthnight! So he employed a young man from Belfast named Albert Thompson to become general manager.
At the age of thirty-six, Jesse was worn out. He went to Jersey to convalesce and while he was there he met Florence Rowe, daughter of a local bookseller. They married and set up home in Nottingham. Florence was a lively person, who also had an exceptional business sense.
The company continued to expand and by 1896 they had sixty shops spread over twenty-eight towns. Still there was opposition, which led to a decree of Parliament in 1908 which stated that a qualified pharmacist had to be in attendance at each branch.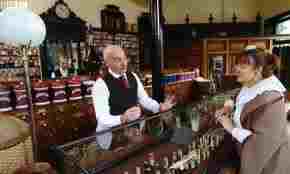 It was Florence who encouraged Jesse to devote a part of a few shops to stationery, artists' material, books and other goods. It was also her idea to start a circulating library, She knew that many people who used the shop would become bed-ridden and the long hours in bed could be better passed if they had books to read. Boots' Book Lovers Library charged borrowers 2d per book. Of course they had to pass through the shop to get to the library counter, remembering items they needed on the way!
In 1909 Jesse received a knighthood, but illness was taking an increasing hold on his body. At the age of seventy he was ready to pass the business on but unfortunately he didn't have faith in any one successor, not even his own son, John. He sold his controlling interest to an America, Louis K Liggett. At that time there were 600 Boots shops in the chain. The sale figure was £2,250,000.
In 1920 Jesse received the freedom of the City of Nottingham and was raised to the peerage as the 1st Lord Trent of Nottingham in 1929. His benevolence towards the city over the years had mounted to at least £2 million.
Jesse Boot died an invalid in 1931. Two years after his death, Florence Boot opeded the 1000th Boots shop, which was in Galashiels.
John Boot led a consortium of British financiers to successfully buy back Boots in 1933. John became 2nd Lord Trent on the death of his father.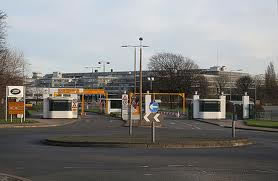 Throughout all this period, Boots was also developing as a manufacturing company. During the First War World they manufactured large quantities of respirators, containing a special compound which resisted poison-gas, and they also supplied troops with over 115 million sterilizing tablets for purifying water. In the latter years of Jesse's life a 300-acre factory site had been purchased three miles south west of Nottingham, where a soap factory was built. The Boots research departments are still in the centre of Nottingham.
Today there are no members of the Boot family on the board, but many of Jesse Boot's ideas are still present in the work that goes ahead.
1989 - Boots spends 900 million pounds to take over Ward White, owners of Halfords and the Payless DIY chain. The move to diversify was not successful and they were later sold off.
July 2006 - Struggling with competition from supermarkets Tesco and Asda, Boots merges with Alliance UniChem in a 7 billion pound deal to form Alliance Boots.
Web Design by www.Flash-Ads.co.uk