William Murdock Morrison was born at Chickinley, Wakefield in 1875. On leaving school he worked as an apprentice grocer in Bradford for 2s 6d a week and his 'keep'. Later he worked for a wholesale egg and butter merchant, before starting in the same type of business himself in John Street, Bradford in 1899. A teetotaller, he often had to retrieve his boss from pubs where he would be drinking whisky; this made a big impact on the yound lad. William's first wife died in 1919 but he married Hilda Ryder in 1921. Kenneth Duncan Morrision's farther was fifty-seven years old when he was born, the youngest and the only boy of six surviving children.
Around the time of the First World War, Wm Morrision (Provisions) Ltd had become an established company; it was now a retail concern, rather than wholesale. In those early days shops within markets were more like market stalls, being enclosed with curtains after closing time, and Wm Morrison Ltd would be among other famous names, all well known to Yorkshire housewives, such as Maypole, Redman's and Driver's. Out of the markets, such businesses had small shops in rows fo terrace houses where the owners often lived behind and above the shops. By 1929 Morrison had a mix of such outlets.
Business was hit hard during the 1930s and Morrison had to start again, with stalls in Bradford and Dewsbury markets. His second wife, Hilda, could display the showman's art of 'pitching' to attract a crowd and she would give the hard sell to people who really had little or no money to but the goods.
With the Second World War came food rationing and Ken Morrison still remembers counting the little coupons which the grocer had to cut from customers' ration books in exchange to goods. All the family joined in round the kitchen table counting, counting, counting! Bradford's Rawson Market was demolished by bombing, including their main stall, but they had opened a store in nearby James Street; it become Bradford's first self-service store, the prices being marked on the products.
In 1950 Ken joined the Army as a National Serviceman and was posted to Germany. Whilst there, his mother 'phoned to say his father was ill and would not work again'. If Ken wanted the business, his mother said she would keep it until he was demobbed. Ken quickly decided to to it on and was joined by Ken Blundell and Keith Naylor, his brothers-in-law.
When Rawson Market re-opened they took three adjoining shops. They were keen to exploit the idea of self-service shopping, but did not have the money to pay the required coveant for the rent of a larger city-centre shop. About two miles from the city centre Ken Morrison noticed that the disused Victoria Cinema was for sale. They brought it, removed the sloping flloor and balcony, and it became their first supermarket - fellow market-traders thought he was barmy, especially to go into the suburbs. But soon his shop was busy with shoppers. The coming of the age of the car changed in Morrison's favour.
Geoffrey Haggas, who had converted the cinema told Ken about some property at Bolton Junction, on the other side of the city, where the owner was going bankrupt. A decision would have to be made that day. Ken Morrision was not sure he was looking for another site, but he went in his van to have alook at it. It was a cold, damp and misty day; there was not even a dog in sight, never mind a potential customer. He belives in having a cup of tea in times of crises. He went back to his office for a 'cuppa', and bought the site! Not long afterwards Ken Morrison saw one of Tesco's directors in the store, along with the owner of Woodroyd Laundry, who was showing him the potential for his laundry - Morrisons bought the laundry and it became the nucleus of the Mayo Avenue Supermarket.
In 1967 Morrisons become a public company, Wm Morrison Supermarkets Ltd. Not far from the coverted cinema in Girlington in 1971 they built a head office, warehouse and factory complex. The office block was named Hilmore House, in memory and with thankfulness for all the work Hilda Morrision had done in those early years. With the increasing trade in non-food products, the term 'Lifestyle' was coined and registered; the phrase non-food seemed so negative.
Expansion into Lancashire come with the purchase of the Whelan Discount Stores group, giving them bases in such important towns as Preston, Bolton, St Helens and Chorley. Today stores are as far afield as Newcastle and Coventry. Their famous M symbol was designed over thirty years ago and the phrase 'More Reasons to Shop at Morrisons' coined ten years ago.
For a number of years, the company has operated a policy of profit-sharing among its workforce, which now numbers almost 20,000. Conscious of the small beginnings, the company has set up the Wm Morrison Enterprize 5 Trust, a means by which others who want to start in business on their own can receive education and training to help them achieve their goal, being fully sponsored by the company.
Now with about four-hundred and fifty-five stores, their own meat factory and fruit packhouse, they still strive to provide Ken Morrison's original aims from the 1950s, value for money coupled with good service, In 1980 he was awarded the CBS for services to retailing.
The History of Morrisons - Bradford Market
Stall to Supermarket Chain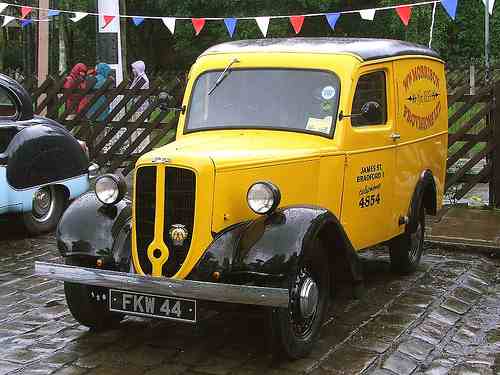 About Morrisons: freshness, service and value
We are the UK's fourth largest food retailer with 455 stores. Our business is mainly food and grocery – the weekly shop. Uniquely we source and process most of the fresh food that we sell though our own manufacturing facilities, giving us close control over provenance and quality; and we have more people preparing more food in store than any other retailer.

Every week nine million customers pass through our doors and 132,000 colleagues across the business work hard each day to deliver great service to them. With competitive prices and hundreds of special offers, we are proud to save our customers money every day.
Take a look at over 100 years of supermarket history below.
Celebrating British
March 2008 – Sir Ken Morrison steps down as Chairman

After 55 years of service, Sir Ken Morrison retires after being honoured with an award for Outstanding Contribution to Retail at the Retail Week Awards.
There are currently more than 370 Morrisons stores across the UK, welcoming around 9 million shoppers each week. The company currently employs more than 114,000 members of staff in stores, factories, distribution centres and head office administration.
March 2008 – Morrisons is Retailer of the Year
The judges' decision to give Morrisons the top prize at the Retail Week Awards is thanks to the successful marriage of "the chain's traditional strengths as a grocer with great marketing and operational practice."
March 2008 – Morrisons offers 100% British meat
Morrisons is the only top supermarket in the UK in which all of the fresh beef, lamb and pork is now 100% British sourced.
December 2007 – First retailer to use regional flour in bread
To cater for the demand in locally sourced food, Morrisons is the first retailer to offer in-store produced 'regional' bread, using wheat grown in the surrounding area of the store.
November 2007 – Commitment to selling 100% British fresh lamb
Morrisons is the first supermarket to commit to selling 100% British fresh lamb throughout the year in our stores nationwide.
November 2007 – North Yorkshire range is launched
Morrisons introduces over 35 locally produced fresh foods into its stores across North Yorkshire.
Fresh choice for you
September 2007 – A new look store in Scotland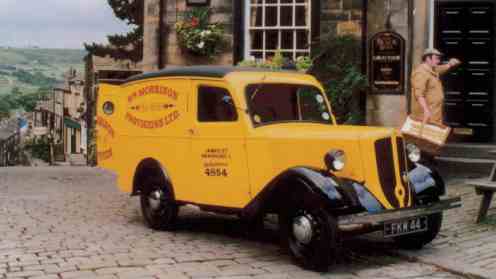 Morrisons opens the first of its smaller format stores in Erskine, Scotland. Featuring the full range of Market Street fresh food, it provides a blueprint for future expansion.
September 2007 – Morrisons is first for flowers
Morrisons wins three awards at the Retail Industry Awards: Fresh Flower Supermarket of the Year, Training Initiative of the Year and Store Manager of the Year.
July 2007 – Morrisons is a fresher choice
A new advertising and branding campaign is launched, reflecting the fact that Morrisons makes and prepares a wider range of fresh food in-store every day than any other supermarket.
July 2007 – Sir Ian Gibson appointed as non-executive Deputy Chairman
Following the announcement that Sir Ken Morrison is standing down as the Chairman of the Company, Sir Ian Gibson is appointed as non-executive Deputy Chairman of the Group.
Innovation and new faces
June 2007 – Morrisons wins at The Grocer awards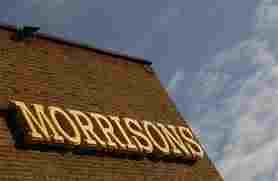 Picking up accolades for customer service and product availability, Morrisons is lauded by prestigious industry magazine The Grocer for a commitment to putting customers first.
May 2007 – Raising awareness about recycling
Morrisons introduces Recyclopedia, a new labelling scheme for its own-brand packaging to help improve recycling habits.
March 2007 – Martyn Jones joins the Board
Starting his career with Morrisons back in 1990, Martyn Jones is now responsible for all aspects of trading and supply chain operations in his new role as Group Trading Director.
January 2007 – Launching new compostable packaging
Morrisons has introduced compostable packaging to its organic fresh produce range, made from sugar cane fibre, wood pulp (cellulose) and GM free starch, and preventing 27 tonnes of plastic packaging and four and a half tonnes of moulded fibre from going to landfill each year.
New headquarters
September 2006 – Voted Seafood Retailer of the Year 2006
Morrisons is awarded Seafood Retailer of the Year at the Retail Industry Awards, singled out for the dedicated and professional service of our in-store fishmongers, as well as having the best quality fresh seafood available.
September 2006 – New fish labelling programme
Morrisons is the first supermarket to use an innovative labelling scheme to tell consumers more about the fish they're buying – supported by the Marine Conservation Society. Along with the scientific name of each fish, the label will also give the origin of the fish (where it was caught, or farmed) and the catch method.
June 2006 – Appointment of Marc Bolland as new Chief Executive
Marc Bolland, previously CEO of Heineken N.V., succeeds Bob Stott as Chief Executive of the Morrisons Group, taking responsibility for the Group's overall commercial and strategic development and delivering the Optimisation Plan.
April 2006 – Morrisons moves to a new Head Office
Some 1500 Morrisons employees move into a new 331,000 sq ft Head Office building on Gain Lane in Thornbury, Bradford.
Becoming the UK's 4th largest supermarket chain
March 2006 – The UK's first BioEthanol E85 filling pumps
Morrisons opens the UK's first BioEthanol E85 filling pump, tying in with the first deliveries of the Saab 9-5 BioPower flex-fuel car. Starting at the Albion Way, Norwich site and expanding to ten petrol forecourts altogether.
November 2005 - Conversion programme complete
In November 2005, Morrisons completes the process of converting Safeway stores to the Morrisons format, the biggest retail conversion exercise ever undertaken in the UK. During the conversion process, over 11,000 jobs were created and more than 50,000 employees underwent training.
October 2005 – Richard Pennycook appointed as Group Finance Director
Richard Pennycook joins the Morrisons Board from RAC Plc.
June 2005 – Morrisons acquires and expands abattoir in Turriff
Morrisons acquires Kepak Buchan, the Turriff-based abattoir and plans to expand the 200-strong workforce.
May 2005 – Morrisons acquires Rathbone bakery operation
Morrisons acquires three factories from Rathbones. The buyout of the plants in Middlesbrough, Lydney and Wigan saves 400 jobs.
March 2004 – Safeway becomes part of the Morrisons family
Morrisons completes the takeover of Safeway, creating the UK's fourth largest supermarket group. To serve the enlarged group, Morrisons acquires an additional fresh produce packhouse and distribution centre at Thrapston in Northamptonshire.
Going national
February 2004 – First store opens in Scotland

In February the company's first store in Scotland opens successfully at Kilmarnock.
2001 – Morrisons joins FTSE 100
Following a 35 year record of sales and profit growth since going public in 1967, Morrisons joins the FTSE 100 for the first time in April 2001.
November 2000 – First store opens in Wales

Our first Welsh store opens at Rhyl.
January 2000 – Ken Morrison awarded a Knighthood
Ken Morrison is awarded a Knighthood in the 2000 New Year's Honours List, for services to food retailing.
1999 – 100th store opens in centenary year
Centenary year is celebrated by opening the 100th Morrisons store at Nelson.
1998 – First store opens in the South
In October 1998, Morrisons opens its first store in the south of England in Erith, Greater London.
Expanding beyond Bradford
1997 – Second distribution centre
Gadbrook Park in Cheshire becomes operational and Wakefield 41 is developed to include a frozen food depot.
1990 – New fresh food warehouse and distribution site
Wakefield 41 is extended to include chilled storage and an ambient storage area for produce, as well as a bread warehouse.
1988 – New purpose-built distribution centre
The first Morrisons distribution centre, Wakefield 41 (situated close to the M1 motorway), goes into operation.
1980 – Fresh food production begins
In August the Farmers Boy purpose-built fresh food factory begins trading as a wholly-owned subsidiary of Morrisons.
1978 – Takeover of Whelan Discount stores

Following the takeover of Whelan Stores, Morrisons operates in Lancashire for the first time.
Starting from a Bradford market stall
1976 – New produce depot opens

The Cutler Heights produce packhouse opens in Bradford.
1971 – New Head Office in Bradford

The Hilmore House office, warehouse and factory complex opens in Bradford.
1967 – Morrisons becomes a public company

Ongoing expansion and plans for further growth lead the company to go public in 1967. The share offer is 174 times over-subscribed as more than 80,000 investors try to purchase shares.
1961 – First supermarket opens

"Victoria", the company's first supermarket, is opened in Bradford in 1961. The former cinema is converted into 5,000 sq ft of retail space selling fresh meat, greengrocery and other provisions, with free parking available.
1958 – First town-centre shop opens

After moving from market stalls to counter service, progress is such that in 1958 a small town-centre shop is opened. With three checkouts it is the first in Bradford to offer self-service and to have prices on its products.
1899 – Stall opens in Bradford Market

It was in 1899 that egg and butter merchant William Morrison began work to create the company we know today. From a stall in a Bradford market came the inspiration to innovate and lead the way in supermarket retailing.